If you are interested in overlays on your natural nails then this article will give you an in depth look at the top 5 products that can be used to coat your natural nails. Not everyone want long, extended nails that are designed to attract attention. some of us ladies may prefer to naturally enhance or preserve what we already have. When you get a compliment on how lovely your nails look, it is often followed by the question ' Are they your own?'. Some people want to be able o honestly answer 'Yes' to that question and overlays are the solution. If your nails grow but stop at a certain length or peel at the tip, or snap halfway down just as you have got them all looking the same the read on to understand the benefits of each system and work out if this is the treatment for you.
Overlays Maidstone 1 - Acrylic Overlays
Acrylic Overlays are very natural and clear in colour. the Natural nail prepared by pushing back the cuticles and gently buffing the surface, The natural nail is then coated in a thin layer of resin and dipped into acrylic powder and allowed to dry. The final layer is then buffed smooth and sealed with a final layer of adhesive and finished with a gentle buff to smooth and shine. 
This product can be applied to suit your needs by building up the layers to the required strength. It can be left completely clear or finished in your choice of nail polish or Gel polish.
This product removes the flexibility in your natural nail so is best suited to people who suffer with nails that break low down or are peeling and flexible. Its great for adding  structure to your nail so it is also good for people with eggshell nails that dip in the centre as is levels any imperfections out. Maintenance is required every 2-3 weeks.
Overlays Maidstone 2 - Fibreglass Overlays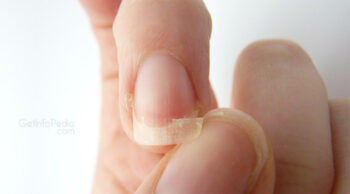 Fibreglass overlays have a very fine profile. This products gets its strength form the fibers that are embedded within the numerous layers of resin. The preparation of the natural nail is the same as for the acrylic overlays but instead of dipping in acrylic powder a fine mesh fabric is applied and then soaked in resin and allowed to dry. Because of the fibers in the fabric this product is great for repairing a nail that is already broken as shown in the image to the left. The resin seeps between the two sections of nail and bonds them together. The fabric then reinforces this by bridging the tear and once this product is finish and set it is hard like glass. It is the most water resistant of all of the nail products so is great for nurses, hairdressers and anyone who has their hands in water a lot. Maintenance is required every 2-3 weeks.
Overlays Maidstone 3 - SNS Overlays
Most people have heard of SNS as its one of the more recent products made available. This product is another powder and liquid product that requires dipping in multiple layers. It is one of the hardest products currently used so is particularly good for people who are very heavy handed as its difficult to break. It can be clear or pre pigmented in a variety of colours.  Due to the inflexibility of this product it is very difficult to file without the use of an e-file/drill which we refuse to use. As such we apply this product as a one off application, we then remove and reapply as it grows.  This is usually required every 3-4 weeks depending on your lifestyle and how quickly your nails grow. 
Overlays Maidstone 4 - Polygel Overlays
Polygel combines the strength of acrylic with the flexibility of gel. It can be applied as thick as required for strength. It is a very soft product to file so is gentle on the natural nails. it offers structure and flexibility in equal measures. It is great for people with dry, brittle nails that are prone to shattering quite low down. Polygel comes in a variety of natural colour and can be applied as a french polish finsh or blended from pink to white ombre. It can also be applied in a clear and finished with a gel colour of your choice. Maintenance is required every 2-3 weeks depending on the rate of nail growth and lifelstyle. 
Overlays Maidstone 5 - CND Plexigel
Plexigel is the latest product launched that can be used to overlay the natural nail. it can e used to add structure and shape. It is super shiny and has an amazing glass like finish. It can be left clear for the ultimate natural look or can be combined with a gel colour of your choosing. Maintenance is required every 3 weeks where the product is gently buffed smooth and a fresh overlay covering the regrowth area is applied. 
Overlays Maidstone v's Nail Extensions Maidstone
If you are looking for overlays in Maidstone or Nail Extensions in Maidstone then we can offer it all. We pride ourselves in staying up to date with the latest systems and all of the systems mentioned above can be applied over a nail tip to lengthen your nail if required. 
If after reading this you still have questions please feel free to get in touch . You can call on 07711 485749 or click here to message us through our contact page. You can also email at hello@nailextensionsmaidstone.co.uk
Thanks for reading X