CND Plexigel Nails Maidstone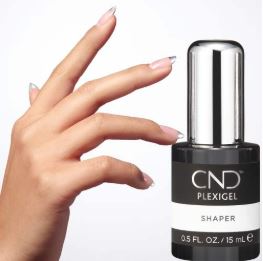 CND Plexigel Nails Maidstone – This is the most current nail enhancement system launched at Nail Expressions.  Like other systems can be applied directly to the natural nail for strength or over a nail extension for added length. 
CND PLEXIGEL™ is a brush-in-a-bottle gel nail enhancement system that provides up to 3+ weeks of strength, length, and shape.
CND Plexigel can be used to fill, repair, add strength, add length and smooth. It its full compatible with gel polish or can be left natural. It is a crystal clear system that has a high gloss finish .
How do CND Plexigel nails differ from acrylic or Shellac nails?
Plexigel is softer and more flexible than acrylic. With gel polish alone you are not adding any length or strength to your own nails. Plexigel gives you the option to lengthen your nails before applying the finished colour.
Minimal damage to natural nails due to the reduced filing of the natural nail.
They should be professionally removed using an acetone bath or acetone wrap. You can also see our Soak off Tutorial on our blog.
This product can be in filled every 2-3 weeks depending on the speed of individual nail growth and lifestyle