Acrylic Nails Maidstone -Acrylic Nail Extensions
Acrylic Nails Maidstone – Acrylic Nail extensions, also known as tips, are made from lightweight plastic and are cut to the shape of your nail. Your natural nail is gently buffed and then the tips are glued on to your own nails, shaped to your preference (square nails / stiletto nails / coffin nails) blended to create a natural look and overlaid with acrylic to secure and strengthen the tips. 
Your newly created acrylic nail extensions  are then filed and buffed smooth by hand (no drills allowed) and ready for your desired finish, either polish (included) or gel polish (additional £5).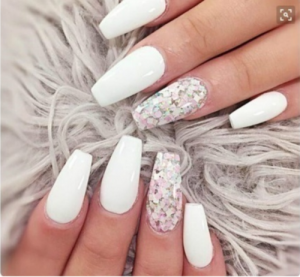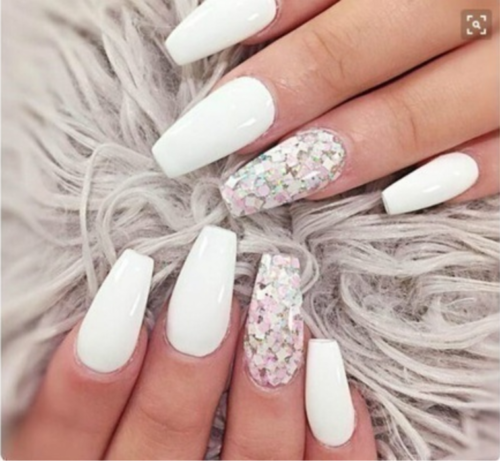 Acrylic nails typically last 3 -6 months depending on lifestyle as long as you have regular maintenance. Maintenance or infills are required every 2-3 weeks.
Acrylic nails are very strong and durable. With this in mind if they are removed by force i.e bitten or picked off then the natural nail beneath will sustain damage. We recommend removal by a professional.
Acrylic nails can easily be removed using either an acetone bath or an acetone wrap. They soak off in approximately 30 minutes. Check out our how to video tutorial for help and to see the process in action.
If you are looking for Acrylic Nails Maidstone then get in touch – Nail Expressions offers a substantial range of Nail Enhancement Systems including Acrylic Nail Extensions, Overlays and so much more so there is something to suit everyone. You can have them finished in either gel polish or normal polish and nail art is available on request- additional charges apply. Have a look on our instagram or facebook page for inspiration
Take some time out and visit us in our purpose built Nail Bar which is a little sanctuary hidden away in the beautiful village of Bearsted just a 5-10 minute drive from Maidstone town centre.
All government guidelines are adhered to, in fact our salon was purpose built during the first lockdown to specifically cater for this.