Mobile Nail Technician Maidstone
Mobile Nail Technicians Good or Bad ? There is often an assumption that going to a Salon for your nails treatments is more professional than having a treatment at home with a mobile nail technician. I am writing this to dispel that assumption… Here are answers to some of the FAQ's on this subject to help you make up your own mind…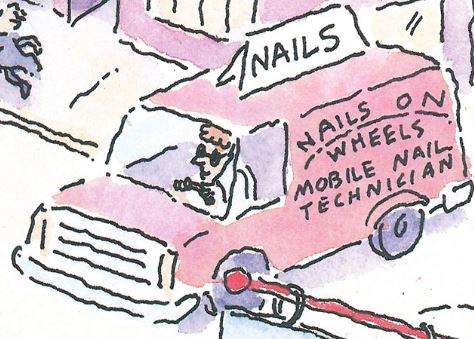 Will the Mobile Nail Technician be Qualified?
Checking the level of knowledge and experience that your Mobile Nail Technician has is vital to ensuring that you choose the correct person. It's worth asking if they are insured. You can't get indemnity insurance without the correct qualifications. Also ask how long they have been doing nails. The level of experience of your Mobile Nail Technician is really important. This industry is a craft and it needs perfecting. The longer they have worked at it the better they will be.  At Nails Expressions we have a combined experience of 31 years, we have applied hundreds of thousands of nails extensions over the years so are very good at what we do. Some of our clients have been with us for nearly 20 years which speaks volumes. Many of the Nail Salons in Maidstone have nail technicians that are qualified overseas (difficult to corroborate). They use chemicals that are banned in the USA, operate cash only businesses and speak very little English. What they offer is a conveyor belt of fast and cheap service but often have to compromise on service, quality and safety.
Will a Mobile Nail Technician offer the same range of treatments as a salon?
As the equipment and products needed to carry out nail treatments at home are small and relatively compact it is just as easy to bring the entire salon experience to you in your home.  Just because you use a Mobile Nail Technician there is no need to miss out on hygiene, colour choice, product range or professionalism. Just ask the right questions when you call to book an appointment.  At Nail Expressions we offer everything from fiberglass, acrylic, SNS, Gel Polish, Pedicure, Callus Peel and have almost 100 gel colours to choose from. At the salons I referred to above you will find that they only offer acrylic nails and pedicures so the range is very limited.
Below is a list of 8 benefits of choosing Mobile Nails Technicians in Maidstone with Nail Expressions
Personal 1-1 service tailored to your specific needs
Vast range of products and services on offer
No travelling required for the client
No parking fees to pay
No restricted opening times means more flexible appointment opportunities
No need for childcare (the client can multi-task if required)
More than 1 technician so plenty of appointment options
Comfort of your own home
Still undecided feel free to give us a call on 07711 485749 and we will answer any other questions you may have